A Super Accurate Replica Of Les Baer's Authentic
1970 FORD MUSTANG BOSS 429

Only 500 Of These 1/25th Scale Classic Muscle Cars Are Available.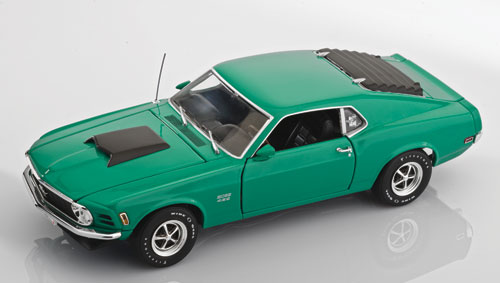 The original 429 Boss Mustangs were and still are a legend among American muscle cars. Only 500 of these heavy hitters were built in 1970 and they all featured the blue crescent or Hemi-design heads that made them so distinctive. These scale model collectors' cars were built by 1st Gear in Peosta, Iowa, using one of Les Baer's own Boss 429s to make all the prints and engineering drawings.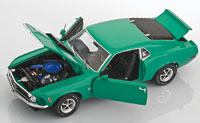 No surprise, then, that these replicas look just like Les Baer's 429, right down to the Grabber Green exterior color with black interior, of which only 43 were built in 1970. Les' was built at Dearborn, Michigan where it was assigned Kar Kraft number KK 2337.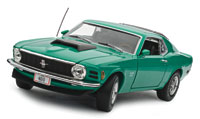 It's equipped with:
• Black Clarion Bucket Seats
• 3:91 Traction Lok Axle
• Four Speed Close Ratio Top Loader Drag-Pak
• Collapsible Spare
• Rim Blow Deluxe Steering Wheel
• Console
• Power Disc Front Brakes
• Décor Group
• Tachometer
• Competition Suspension
• Front Air Spoiler
• Functional Hood Scoop
• Trunk Mounted Battery
The highly detailed replicas feature:
• Opening Hood, Trunk And Doors
• Classic Boss 429 Engine
• Poseably Front Wheels
• Detailed Interior
• Detailed Undercarriage
If you admire fine American muscle cars, this Boss 429 is a must-have for your collection. If you buy one of Les Baer Custom's new Boss 1911 pistols, you really need to complete the package with one of these incredibly detailed replicas.
Baer Custom Clothing To Help You Look Like A Pro.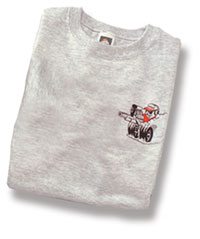 Standard Short and Long Sleeve T-Shirt
Available in black or grey. Specify size when ordering.

Black Hoodie Sweatshirts
Popular pullover hooded sweatshirts are warm and comfortable. Black only,. Specify sizes when ordering.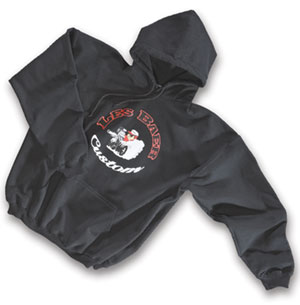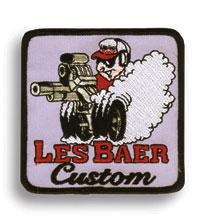 Baer Logo Patch
Handsome, multi-color 3-1/2" x 3-1/2" embroidered patch of the readily identifiable Les Baer Custom logo. Ready to apply to your shooting jacket or vest.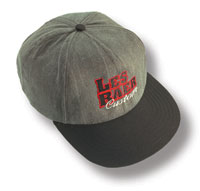 Baer Deluxe Hats
Classic baseball style cap in attractive grey with black bill.
Features custom embroidery and top quality six-panel construction.
Adjustable; one size fits all.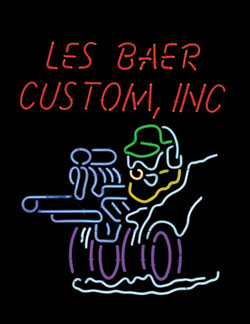 Les Baer Custom Neon Sign, 27" X 35"
Les Baer's distinctive shooting/racing logo is now available in neon. Perfect for a gun shop, clubhouse, family room gun room or "man cave".